She was certainly walking tall as she stepped out with her beautiful cousins in Miami. Sofia Vergara, who is 5ft 7ins, towered over Rose and Mariana Vergara by boosting her height with perilously high-heeled platform sandals on Thursday.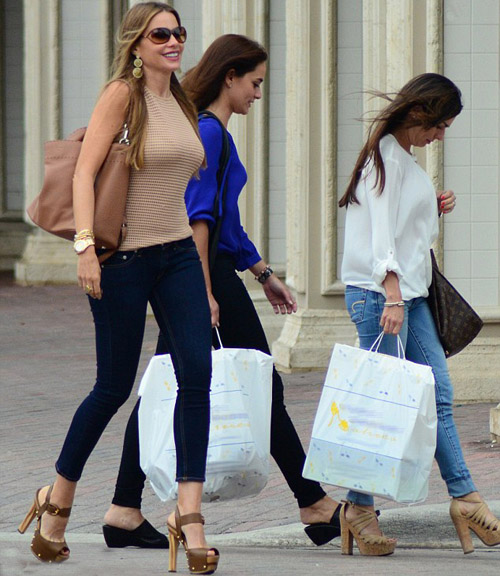 The wooden-soled shoes could easily have added eight inches to her svelte and slender frame. But The Modern Family star wasn't the only one cheating on her height. One of her cousins wore platforms only slightly lower than Sofia'. All three of the gorgeous Vergara ladies were smiling and chatting as they walked along in the Florida sunshine.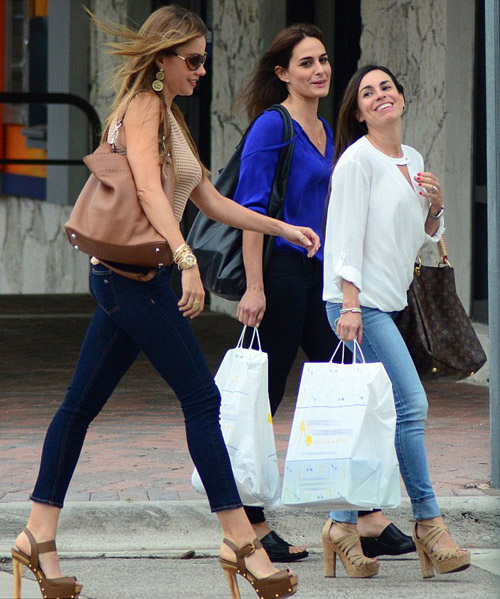 Sofia Vergara aged 41, wore a knitted, nude-coloured tank top that revealed a hint of her bra and her generous assets plus cropped blue skinny jeans that added the appearance of length to her slender legs. Originally a brunette like her cousins, the actress seems to be sticking with her new honey blonde hair colour. Her long shiny tresses fell around her shoulders and framed her perfectly made-up face, which was hidden behind a pair of large sunglasses. She accessorized with a large peach handbag, a chunky watch and gold bangles.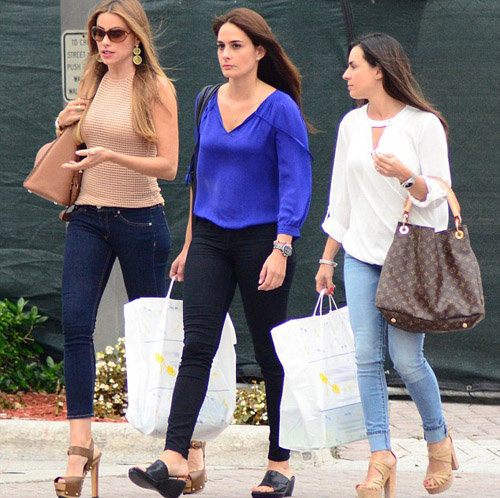 The Colombian was the only one of the trio not carrying a bag with new shoes. After their shopping trip, Sofia Vergara Rose and Mariana enjoyed a cold drink together at an outdoor cafe. The mini-break was just what Sofia needed before she began promoting her new film, the Fading Gigolo, in New York City on Friday. The sassy star stepped out to a screening in a short-sleeved black pencil dress with a gun metal detail down the front that accentuated her curves in all of the right places.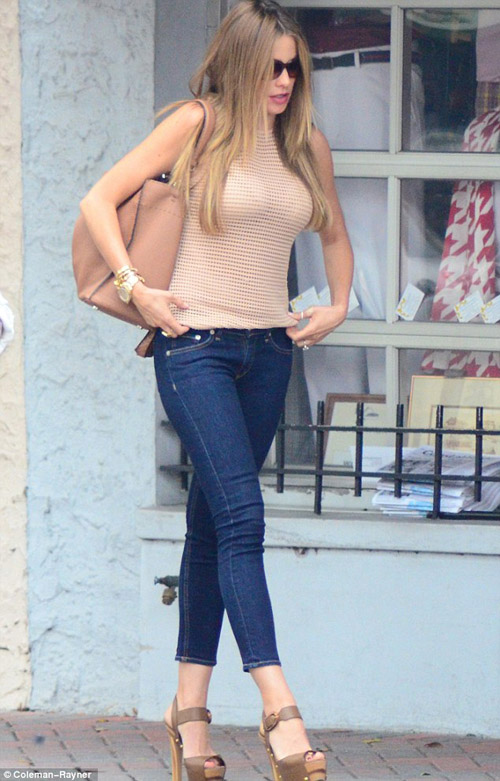 Sofia Vergara finished the look with a pair of sky-high silver and black Christian Louboutin platforms and a buckled black clutch. The film also stars Sharon Stone, Woody Allen, Liev Schreiber and Johny Depp's ex, Vanessa Paradis. Sofia recently raised eyebrows when it was reported that she paid $10.6 million on a luxurious new seven-bedroom Beverly Hills mansion, according to Trulia.com. But the price shouldn't be a problem for her. In July 2012 Forbes named her as  the highest-earning woman in U.S. television, raking in $19m for the previous 12 months. -Dailymail