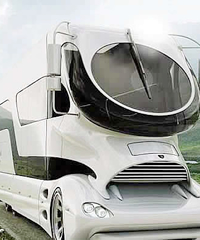 Enthusiasm for true class is the first stopover at a wonderful journey with your eleMMent palazzo. You can go wherever the sun takes you, but all the while outshine everything.
Relax with your friends by having a chilled drink from one of the bars on your fully automatic liftable flybridge lounge or on the welcoming couch area inside. Nightlife on board: transform your couch area by the push of a button into a stylish bar furniture. That way you glory in your private party on two entirely equipped floors.
The comfortable retreat is guaranteed by the master bedroom with its own integrated bathroom for a pleasant recovery. Numerous inventions ensure that you experience the greatest level of comfort and security. A programmed central control provides all important information at a glance. Set-up and dismantling is executed by a graphic interface via touch screen.
Park in front of your favorite restaurant and monitor your eleMMent palazzo via an additional control unit. Remote video access allows you to show your friends the exterior and interior and also permits to pre-set the lighting and temperature for you return to the vehicle.
The eleMMent palazzo unites characteristics from motor, yachting and aviation sports such as a sports car rear diffuser, the business jet gang way or the motor yacht flybridge. The interior is just as extravagant as its owner: minimalistic and modern shapes fused with classy and antique design elements embedded in timeless ambiance.
There is a lot to discover – maybe even within yourself. – marchi-mobile