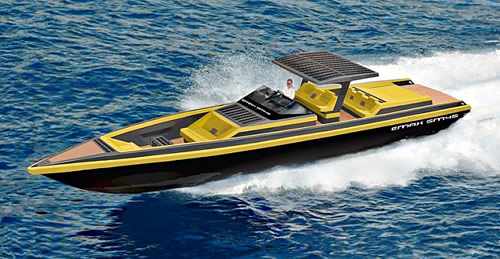 SCOD Presents the Emax Super Marine 45; the world's first Zero Carbon Superyacht Tender with a top speed of 80 knots. The Emax Jet Propelled Shuttle is powered by twin CMD Marine V6 TDI diesels coupled to GM Allison Hybrid Transmissions. Each 450hp Diesel Electric Power Plant weighs no more than its gasoline equivalent while consuming 40% less fuel.
When employed as a Zero Carbon ship to shore shuttle the Emax SM45 relies on a 32KWh UPS to propel the Solar Hybrid boat at up to 25 knots in virtually silent electric mode. Push the throttles full ahead and the infinitely variable electric transmission kicks into low gear engaging the V6's and loading the Hi-Torque WaterJets to deliver unsurpassed acceleration. Once on a plane the transmission selects the most economical rpm at all speeds up to 80 knots.
Built by the Ned Ship Group the 900hp (1160ft.lbs of torque) Carbon Epoxy Super Marine 45 is the fastest most powerful Tender in the world. Even so she is 50 to 100% Greener than other tenders in her class due to her Solar Hybrid Propulsion and the ability to store and use energy harnessed from her 4KW PV SunPower Solbian array.
The Emax Super Marine 45 utilizes Allison's Hybrid Technology, a dual mode infinitely variable 6 speed transmission that delivers the highest level of economy with the best performance in a system with years of proven reliability in Arctic to Tropical environments which is why the Allison Hybrid Transmission is employed in thousands of Hybrid Buses the world over, the GM fleet of Hybrid pickup trucks, the Hybrid Escalade and the Hybrid Bluetec S Class Mercedes Benz.
Allison's Global leadership in Hybrid Technology is underpinned by the more than $300 million dollars that they and Remy have received in US DOE Grants to develop this system. Whether shuttling passengers and supplies back and forth, or off on an exhilarating adventure the luxuriously appointed Super Marine 45 can seat up to 10 people, plus 4 more on the sun bed. Under the Solar Center Cockpit there's a stand up head and shower with a sleeping com- partment for 2. For long excursions there's a refigerator freezer, a stove with microwave and a foredeck table for setting out a buffet.
Every detail of the Emax Super Marine 45 provides the right blend of Ergonomics, Functionality and leading edge technology without compromises on either performance or comfort. With a top speed of 80 knots, nothing compares to this level of performance combined with luxury, style and versatility.
As a Jet Propelled Zero Carbon Recreational Water Craft no Tender is Safer or more Eco Friendly – sautercarbonoffsetdesign
Specification:
LOA 45' / Beam 10.5' / Draft 2'
Standard Power: (2) Cummins MerCruiser Diesel (CMD) TDI 4.2 V8 – 700hp
Optional Hybrid Power: (2) CMD 3 liter TDI V6/GM Allison Hybrid – 900hp
UPS 32KWh; Valence Technology
Drives: (2) Rolls Royce  FF Series WaterJets
Construction; Ned Ship Epoxy Carbon Fibre
Zero Carbon Cruise: 25 knots
Standard Cruise: 55 knots
Max Speed: 80 knots